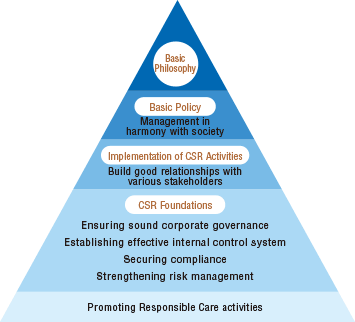 Tokuyama approaches its CSR activities in accordance with its basic policy of engaging in management that is responsive to society. We believe that CSR activities help us to sustainably grow our business and enable us to work with society to build a sustainable future. To increase stakeholder satisfaction, we are committed to promoting activities that are evaluated highly by stakeholders and all members of society.
Tokuyama has positioned the assurance of sound corporate governance and establishing effective internal control systems as a significant part of its CSR foundations, and the promotion of compliance and risk management underpins our internal control. Along with Responsible Care (RC) activities—an important area in the management of the Tokuyama Group—we are working to achieve optimally balanced CSR foundations.
Tokuyama focused on reinforcing compliance education, raising employee awareness on compliance and strengthening its risk management structure, with a newly established CSR Promotion Council spearheading these efforts.
Adhering to the Tokuyama Group Code of Conduct and the Tokuyama Group Guidelines for Business Activities, we will continue to establish good relationships with our stakeholders and practice management that is responsive to society, thereby maintaining the Tokuyama Group's status as a corporate group of choice for our customers. To ensure that compliance is promoted Groupwide in a tangible manner, we have distributed a handbook containing the Tokuyama Group Code of Conduct, the Responsibility of Senior Management under the Tokuyama Group Code of Conduct and the Tokuyama Group's Five Conscience Clauses to every executive and employee of the Group.