EDCORE is a tubular membrane electrode apparatus made of seamless tubular ion exchange membranes. It is used to recover free anion occurring during the electro deposition coating process and other processes. Different from products of ordinary ion exchange membrane sheet, it offers various unique features.
Product
Anion exchange type membrane electrode apparatus
Membrane
Membrane type
Strong basic tubular anion exchange membrane
Shape
Tubular and seamless (constant thickness)
Material
Polyolefin-based + styrene/divinylbenzene-based material
External dimension
Φ63mm
Transport number
≒98%
Electrode
Material
SUS316
External dimension
Φ48.6mm
Potting material
Rigid PVC
Line up
Length
Less than 4,000mm (negotiable)
Weight
Approximately 15kg each in case of open vertical
model with effective membrane length 2,100mm
Line up
Open vertical model/Closed vertical model/
Closed horizontal model
Others
Circulation amount of anolyte
≧3L/minutes (per each)
Applicable temperature range
0-40℃
Water permeability
0 (up to 0.8MPa)
*We also offer cation exchange models besides products listed above.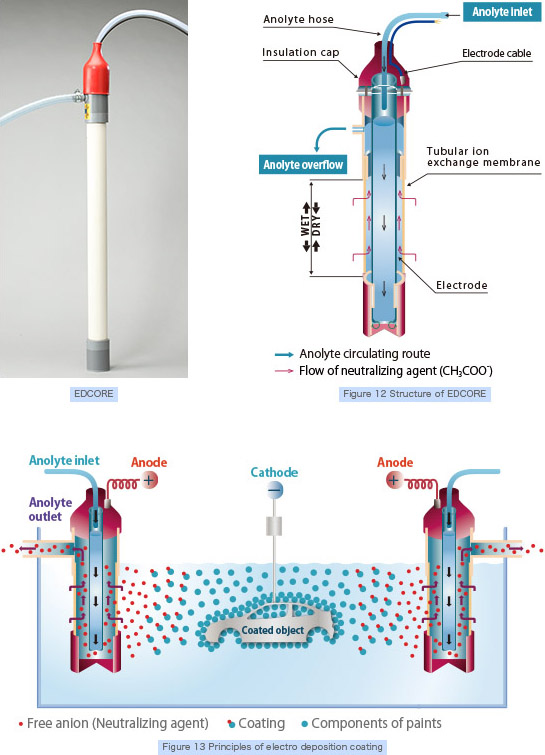 High physical strength
EDCORE is a simply structured electrode apparatus that requires no supporting device because the membrane maintains excellent physical strength. Since there is no supporting device, it maximizes the effective area of the membrane (conductive area) and anolyte circulation rate which contributes to a lower outbreak of foreign substances such as bacteria.

Reduction of deposits
The membranes are smooth and easy to cope with dimensional changes so that no wrinkles occur. Its wrinkleless construction prevents substances from depositing and minimizes the risk of coating failures due to the deposits.

Low permeability of non-ionic substances
Since there is no permeability for non-ionic substances and the EDCORE's permeability is zero for water at 0.8MPa or less, it can prevent contamination of the electrode solution.

Easy handling
The EDCORE is lightweight and sturdy, and able to be handled in a dry condition.
Its compact size makes flexible installations and easy maintenance possible.


| | |
| --- | --- |
| ・ | Electro deposition coating for automobiles, building materials, consumer electronics, etc. |